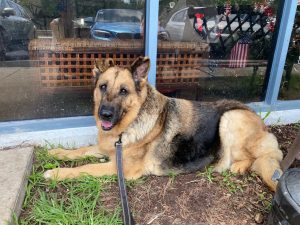 My rescue friend, Bari, started it all. 💟 She had just tagged me on Facebook about a sweet and beautiful 11 year-old German Shepherd senior, who was languishing at a high kill shelter. They'd placed her in the treatment section, away from public view, due to rear leg weakness, possible arthritis and mammary masses. A plea was sent a few days earlier to help her, but no one had shown up for the dog they called Tina.
I looked at her face; her eyes said it all. The weight of the world was in those eyes, and I knew I had to help this girl. I knew from personal experience that German Shepherds are bright, curious, loyal and wonderful dogs. My Shepherd, India, was with me for almost 15 years.
Tina would need veterinary care. She would need healthy food; kibble was not an option in order to help heal this dog. I didn't know anything about her back story or why, at 11 years old, she was left wandering the streets.
I have to give props here to my Nextdoor.com community. A good-sized group of animal lovers came together to form a tribe around Tina. Vet care, food, treats, a bed, toys – all were donated or purchased by these caring, generous people.
Within the first week of springing Tina, I found a foster, we'd renamed her Gabby and gotten her thoroughly checked by a vet. She would need surgery to remove several mammary tumors; we prayed they were benign.
On Surgery, Abuse & Learning To Trust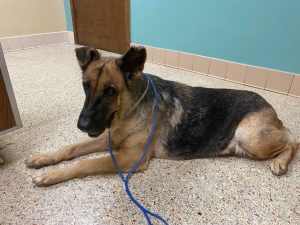 As the days wore on, we learned Gabby loved dogs, was good with cats, kids (her foster had a 10 year-old), was calm, maternal and sweet. We saw how she didn't know about living indoors and didn't know what to do with a bed. She had to learn as a senior, what many other dogs took for granted. Our hearts ached.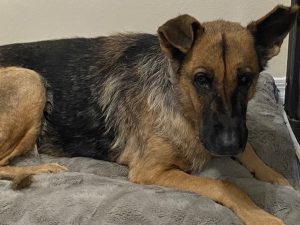 We also learned a bit about Gabby's back story from that experience at the vet. She behaved like she'd been abused. She didn't like her rear end touched; we were thinking maybe because she was force bred for years, something her hanging teats and those mammary tumors could support. She also shied away from having her head touched; was she hit on the head? Could Gabby be a backyard breeder dog, who was discarded onto the street when she was no longer useful?
As we kept updating Gabby's tribe on her condition, that tribe grew, and stepped up to pay for surgery and post care. We sat on pins and needles, waiting for the results of the biopsy…thank goodness, those tumors were benign, so Gabby's prognosis was very good. It was just her arthritis we had to address.
Her vet was a combination vet, incorporating both conventional and complementary medicine. Chinese herbs were prescribed to tonify and strengthen Gabby's immune system as well as help with her arthritis.
Over the next 5 weeks, Gabby thrived. She got along well with her foster's daughter and dog. We took her out to the doggy store for treats – bully sticks were her favorite. She was learning to trust, a big step for this dog who'd been through so much.
Gabby's Adoption Misadventure
And then, one day, an adopter came into our lives. She wasn't local, which was an issue for me. I'd vowed not to adopt any dog to someone far away. I'm tough and I have my protocol when checking out a potential adopter, which involves home visits and making sure this is the right match for the person and the dog, since everyone is different with different needs.
But, after several phone calls and a couple of Zooms, I relented, and Gabby's foster put her in the car in early December and drove her to Tennessee.
With Gabby's foster there on site, she could personally do a home visit. On Zoom,  I watched Gabby in the adopter's home and got feedback and impressions from her foster. It seemed like it could work really well. The adopter had one small dog, about 8 cats and lived on about 4 acres of land, plenty of space for Gabby to run, roam and relax.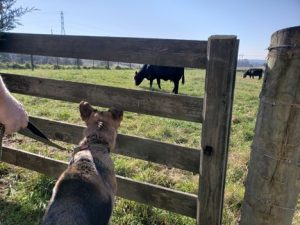 Over the next few months, we all kept in touch and things seemed to be going well. There was an adjustment period, of course, but we thought Gabby and her adopter were bonding.
In month 4, her adopter stopped reaching out. This was alarming since no news, in these cases, is not necessarily good news.
Finally, we were able to connect with her, only to learn she didn't want Gabby anymore. She said Gabby was relieving herself in the house, something she hadn't done with her foster. This rang additional alarm bells; what was going on there to cause Gabby to do this?
Gabby's foster, bless her, had grown to love Gabby and she volunteered to drive back out to Tennessee to pick Gabby up. What she saw, we could never have anticipated.
This trim, beautiful girl had put on 20 lbs! If you know about dog weight, 20 lbs for a dog is like putting on 100 lbs for a person. Gabby was obese, and having arthritis in her hips and back legs with that extra weight was devastating. She could barely walk.
We also saw Gabby was not fed the healthy food we'd had her on, nor was she given the herbs we'd included, that was helping to mitigate her arthritis.
Her foster couldn't even get Gabby into her car.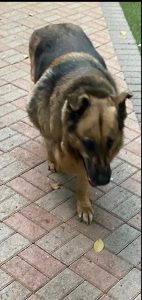 After figuring this logistic challenge out, Gabby was on her way home with her foster, but this was to start a journey not only back to Fort Lauderdale, but back to health, since Gabby was in pretty bad shape.
We got her into the vet right away and learned that, outside of having to lose those 20 lbs and get her arthritis management back on track, Gabby was ok, thank goodness. She went back on herbs and a good diet.
A Corner Is Turned
As one who practices homeopathy with some wonderful results over the years, I knew I wanted to address Gabby's arthritis homeopathically, too. So, I took Gabby's case. In homeopathy, there isn't one remedy for arthritis. It's all about the individual – Gabby's individual symptoms of how SHE is expressing arthritis, her loves and hates, quirks and what makes her arthritis feel better and worse. After one false start with a remedy, I decided on one called Calcarea Carbonica. The symptoms Calc Carb would create in a healthy individual matched well with Gabby's own symptoms. So, we tried it. One of the great things about homeopathy is it's a do-no-harm medicine, so if this wasn't the correct remedy for Gabby, nothing would happen.
But, boy, did things happen! Just 3 days after giving Gabby a couple of doses of Calc Carb, she went from being barely able to walk and having to stop, sit and then lie down in the street on walks, to trotting! Her whole sense of wellbeing improved, which is a sign you're on the right track with a remedy. It was such a beautiful sight to see!
After a couple of weeks, Gabby's foster was unable to care for her due to personal issues. So, I reached out to the owners of a boarding facility called Bow Wow Pet Resorts in Pompano Beach, where Gus and Zoey, two Pit mixes I'd rescued, lived for a while until they were adopted. Bow Wow had always done right by the dogs I'd brought to them; the people who work there love and take good care of them, and they've done no different for Gabby.
Where Is My "The One"?
It's been about two months since we took Gabby to Bow Wow. The Calc Carb continues to work its magic on her. She's spry, happy and doing well. Her arthritis is well managed; she is not in pain. And, she's losing weight.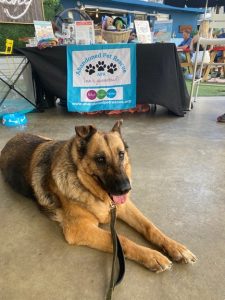 Now, Gabby is ready for her forever home. And, with the life she's led, this ol' girl deserves the best of the best. She's already a star on Facebook, having done a Facebook Live, courtesy of Abandoned Pet Rescue. The girl mugged for the camera and was her charming self, trotting and prancing about, as if to say, "See? I've got everything it takes to be your girl; your best girl." And, knowing this wonderful dog, I wouldn't doubt it for a minute.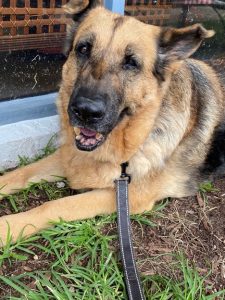 Those interested in adopting Gabby can either fill out an application through Abandoned Pet Rescue (she is included in the Adoptable Dogs on the site) or reach out to me at 917-770-3970.
About Jody Miller-Young: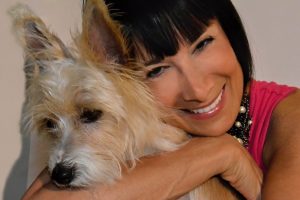 A 30+ year homeopathic healer in her personal life, Jody is now helping pet parents with sick pets to naturally and holistically heal, so they will finally have a solution to extend their lives and add precious time with their best friend.  Miller-Young is a Certified Pet Homeopathic Educator. She is about to launch her program, Hound Healer Homeopathy: How To Help Our Pets Live Longer, Healthier Lives.
She was a blogger, radio host and fashion editor of Hampton's Pet magazine in the pet fashion and rescue space with her brand, Bark & Swagger for several years, and still interviews designers, authors and activists on her podcast of the same name, which reaches over 250,000 on demand listeners.