For the last nine years our Culinary expert, Chef Debbie Gronsbell has created an array of taste treats that enliven the palette.  This year because of COVID-19 we are unable to bring you those treats in person.  But here are eight of her top recipes that you might consider making for Saturday night or even better during our one hour presentation Debbie will prepare two of her favorites just for you.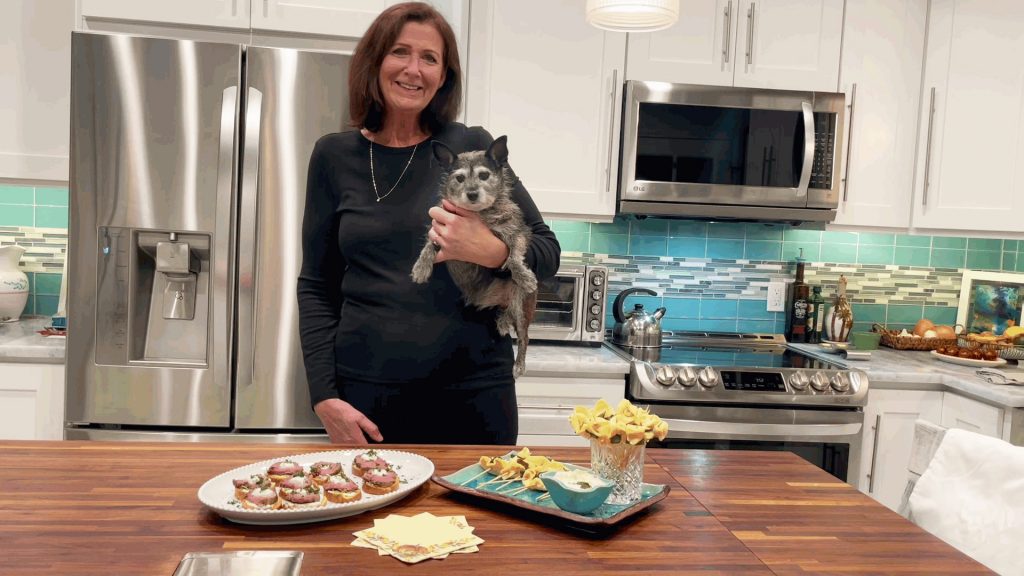 Skewered Tortellini with a
Lemon-Parmesan Dip
Makes approximately 2 dozen
For the Lemon-Parmesan Dip
1 cup crème fraiche, store bought or homemade*
2 oz. Parmesan cheese, finely grated
Grated zest of 1 lemon, plus the juice of a large lemon
5 cloves roasted garlic**
Kosher salt and freshly ground black pepper to taste
In a small mixing bowl, combine all of the above ingredients.  Set aside until ready to use (can be made 1-2 days ahead. Cover and refrigerate and bring to room temperature for serving).
For the Tortellini
1 9-oz package fresh cheese tortellini
Basil leaves
Olive oil
6" wooden skewers
Bring a large pot of salted water to a boil and cook the tortellini according to package direction just until tender. Drain and gently toss with a sprinkling of olive oil to prevent sticking.
To assemble:  Skewer one tortellini on a 6" wooden skewer, followed by one small leaf (or ½ a large leaf) of fresh basil, then another tortellini.  Repeat with remaining tortellini and basil.
These can be made several hours in advance. Place finished skewers on a parchment lined jelly roll or sheet pan in a single layer.  Top with a damp paper towel.  Continue with another layer if necessary and cover loosely with plastic wrap and refrigerate.  Bring to room temperature before serving.
*Crème fraiche, the ultimate sour cream, can be purchased in most supermarkets, or you can make your own.  Starting 48 hours in advance, in a glass jar, combine 2 cups of heavy cream (pasteurized, not ultra-pasteurized) and 3 tablespoons of cultured buttermilk (make sure it is cultured or it won't work) and cover tightly with cheesecloth (or any breathable material). Let sit at room temperature for 24 hours. Stir, screw lid on jar, and refrigerate for 24 hours before using. Yield 1 pint.  Store in the refrigerator and use as you would sour cream.
**Roasted garlic:  Heat oven to 400 degrees F. Peel most of the papery outer layer from 1 head of garlic leaving the head intact. Trim about ¼ " inch off the top of the head of garlic to expose the tops of the garlic cloves. Drizzle with 1-2 teaspoons of olive oil, wrap in foil and roast in the oven for about 45 mins. Garlic is done when a center clove is completely soft when pierced with a knife.  Cool completely. Press on the bottom of a clove to push it out of its paper.  Roasted garlic can be stored in the refrigerator for about 2 weeks.
Beef Tenderloin Crostini
Makes about 30
1 pound beef tenderloin, trimmed and tied (also known as filet mignon)
olive oil
1 baguette, cut into 1/4-1/2-inch slices
1/2 cup crème fraiche or sour cream
2 tablespoons horseradish
1-2 tablespoons chives, minced
salt and pepper
baby arugula
microgreens, chives or parsley for garnish
Start by preheating the oven to 500 degrees F. Place the beef tenderloin on a baking sheet, drizzle with 3-4 tablespoons of olive oil and season liberally with salt and pepper, making sure to rub oil and seasoning evenly over the meat. Roast the tenderloin for 20 minutes or until an internal thermometer reads 125 degrees. To make the beef tenderloin easiest to slice, the meat should be cooked rare to medium rare. Remove from the oven and tent with aluminum foil. Let the beef tenderloin rest for at least 20 minutes.
Next, to make the crostinis, turn down the oven to 400 degrees. Thinly slice your baguette into 1/2-1/4-inch slices. Organize the baguette slices in a single layer on a baking sheet. Note: Depending on how thinly you slice, you may need to two baking sheets. Drizzle with the olive oil. Bake for about 5 minutes until golden brown. For extra crunchy crostinis, reduce heat to 350 degrees and bake, rotating baking sheets halfway through, for 15-20 minutes until golden brown.
While the meat and crostinis are cooling, make the horseradish sauce. Combine the sour cream, horseradish, and minced chives in a medium bowl and stir until combined. Season with salt and pepper. If the horseradish sauce is too runny, add in 1-2 tablespoons of breadcrumbs. If the horseradish sauce is too strong, add in 1-2 tablespoons of applesauce.
Finally, transfer the beef tenderloin to a cutting board and thinly slice. Note: The trick for how to slice beef tenderloin is to use your sharpest slicing knife. If the meat is cooked rare to medium rare, the blade will cut through like butter.
Then, spoon a dime-sized dollop of homemade horseradish sauce onto each toasted crostini, followed by an arugula leaf, then a thin slice of beef tenderloin and topped with another dime-sized dollop of horseradish sauce. Add some microgreens on top for garnish– and bon appetit!
"Beyond Meat" Cocktail Meatballs in a Cranberry Sauce
Makes 25-30
For the meatballs
1 14-oz pkg. Beyond Meat Hot Italian Sausage, casing removed
¼ cup finely minced onion
Small clove of garlic, finely minced
1 large egg, lightly beaten
2 tablespoons water
¾ cup breadcrumbs
Kosher salt and freshly ground pepper to taste
¼ cup parsley, finely chopped, plus additional for garnish if desired
(or a generous tablespoon of dried parsley)
Preheat oven to 350 degrees F.  Prepare a baking sheet by lining with parchment paper or tin foil. If you have a baking/cooling rack, place that on the baking sheet and coat with cooking spray. If not, lightly spray prepared sheet pan.
Place the sausage in a medium sized bowl and with your hands, or a spatula, break up the sausage to resemble ground meat. Add the remaining ingredients and mixed until combined. Using about 1 tablespoon of the mixture, form into balls and place on the prepared pan or rack.  Bake for 20 minutes, or until lightly browned.  Remove from oven.
For the sauce
1 8 oz can jellied cranberry sauce
½ cup bottled chili sauce
¼ cup water
While meatballs are cooking, in a large saucepan melt the cranberry sauce over medium-low heat.  Add the chili sauce and water and stir to combine.  Add the meatballs to the saucepan and stir gently to coat with the sauce. Lower heat to simmer, cover pan and cook for about 20 mins. Add a little more water to thin the sauce if needed.
Place on a platter and serve immediately with toothpicks.  I've also served these on a buffet in a fondue pot to keep warm.
Can be prepared 1-2 days ahead. Prepare the meatballs and sauce and refrigerate, covered, separately until ready to use. Reheat sauce, add meatballs and simmer for about 20 mins.
Burrata Cheese and Arugula Crostini
One dozen
For the crostini
1 baguette sliced into ½" pieces
3 tablespoons olive oil (approximately)
1 clove garlic cut in half
Here are two methods to prepare crostini:
Grill:  Preheat a grill or grill pan to medium-high. Brush or spray or drizzle both sides of the bread with olive oil.  Place bread slices on preheated grill and grill for 3-5 minutes per side, or until lightly browned with grill marks.  Remove from grill and when cool enough to handle gently rub one side of the bread with the cut side of the garlic. Place on wire rack to cool completely.
Bake:  Preheat oven to 450 degrees F.  Brush or spray or drizzle both sides of the bread with olive oil and place in a single layer on a baking sheet. Bake for about 7 minutes or until lightly browned but keep a close watch so the bread doesn't burn.  Remove from oven and when cool enough to handle gently rub one side of the bread with the cut side of the garlic. Place on wire rack to cool completely.
For the burrata & arugula salad
1 cup baby arugula, coarsely chopped
2 tablespoons olive oil
Finely grated zest from one lemon
Salt and freshly ground pepper
12 pieces of crostini
Water
1 8 oz ball of burrata cheese* cut into 12 wedges
In a small bowl, combine 1 chopped arugula with 1 tablespoon of olive oil, ½ the grated lemon zest, and salt and pepper to taste.  Toss to combine, set aside.
Brush one side of the crostini very lightly with water. Place 1 piece of the burrata on a crostini slice, drizzle with a little olive oil and a little salt and pepper to taste. Top each crostini with some of the arugula mixture and place on a serving platter. Sprinkle with additional lemon zest and serve.
*Burrata is a soft, fresh Italian cheese made from mozzarella and cream and available in most supermarkets. If unavailable or if you prefer, substitute a good quality fresh mozzarella.
Curried Coconut Shrimp Balls
Makes approx. 48
1 cup flaked coconut
1 teaspoon curry powder
2 8-oz. pkgs. cream cheese, softened
1 lb. shrimp, cooked, peeled and deveined
2 green onions, chopped
Combine coconut and curry powder on a baking sheet. Bake at 325° for 5 to 7 minutes or until golden; set aside.
Process cream cheese, shrimp, and onions in a food processor until blended. Chill 1 hour.
Shape shrimp mixture into 1-inch balls and roll in toasted coconut mixture.
Optional – serve with mango chutney for dipping
Goat Cheese and Apricot Truffles
Makes about 30 truffles 
12 oz. goat cheese, room temperature
2 tsp. finely chopped thyme
2 tsp. finely chopped tarragon
2 tsp. finely chopped chives
Kosher salt and freshly ground pepper to taste
8 dried apricots, quartered
3⁄4 cup finely chopped pistachios 
Mix cheese, herbs, salt and pepper in a bowl. Using your hands, roll mixture into 1″ balls. Using your thumb, make a hole in each ball, press an apricot piece into center, and then mold cheese around apricot; roll in pistachios and place on parchment paper-lined baking sheet. Chill 20 minutes before serving.
Can be made 2 day before serving
Grilled Veggie & Goat Cheese Crosinti
Grilled Veggies
Small log softened goat cheese
Balsamic Glaze
Crostini
For the grilled veggies:
1 medium zucchini, trimmed & sliced lengthwise into 4 pieces
1 small eggplant, trimmed & sliced lengthwise into 4 pieces
1 small/med red onion, peeled and sliced (about ¼" thick pieces)
8 medium baby bella mushrooms or 1 large portobello
1 red, orange or yellow pepper
Olive oil
Garlic cloves, smashed
Salt & pepper
Fresh chopped basil to taste
Place all veggies but the mushrooms & pepper in plastic bag (or baggies), add olive oil, salt, pepper, smashed garlic clove.  Marinate about ½ hr.  Place mushrooms in another bag with a little olive oil, etc. (mushrooms absorb lots of moisture very quickly, so I don't throw them in the pool with the rest of the veggies).
With grill (or grill pan) on medium/high grill veggies until browned & softened slightly. Remove to plate to cool.  Place the pepper directly on gas burner and char the outside skin.  Once charred, place in a paper bag, or small bowl with cover.  Steam for a few minutes until cool enough to handle and rub blackened skin off pepper.
Cut all veggies into small dice and place in bowl and add basil.  Taste for seasoning & set aside.
For Crostini:
Baguette, Ciabatta, etc.
Olive oil
Preheat oven to about 350 degrees F.  Slice baguette into ¼" to ½" wide pieces and place on cookie sheet.  Drizzle with a little olive oil and sprinkle with salt & pepper.  Bake for 15-20 mins, until slightly browned.  Set aside.
When ready to assemble:
Spread some softened goat cheese on crostini, top with some of the veggie mixture, & drizzle with a small amount of balsamic glaze***
***If you don't have, or can't find, balsamic glaze, you can take balsamic vinegar and boil down to a syrupy consistency.  You can also skip the glaze and add some balsamic vinegar to the veggie mixture to taste.
Guacamole Shrimp Cups
Makes 24 
CUPS
flour tortillas
2 tablespoons butter, melted
Preheat oven to 375˚F (190˚C).
Butter each side of the tortillas and cut into even quarters, making 24 pieces.
Place one piece in each cup of a muffin tin and push down so it creates a cup shape. (Make 2 batches or use 2 muffin tins to make the full amount of cups).
Bake for 10-12 minutes or until crisp.
SHRIMP
1 lb. medium shrimp, peeled and deveined
1 tablespoon olive oil
2 cloves garlic, minced
1 tablespoon Cajun seasoning
Salt & pepper to taste
In a medium bowl, mix together shrimp, olive oil, garlic, Cajun seasoning, and season with salt and pepper to taste.
Preheat a grill or grill pan to medium high heat.  Add shrimp and cook, flipping once, until pink and opaque, about 2 minutes per side. Set aside.
AVOCADO SALSA
2 avocados, diced
1 tomato, large, diced
1 medium red onion, diced
¼ cup jalapeño, diced
2 tablespoons lime juice
¼ cup fresh cilantro, chopped
½ teaspoon salt
½ teaspoon pepper
In a medium bowl, combine diced avocado, tomato, red onion, jalapeno, cilantro, lime juice, salt, and pepper. Stir gently.
Assemble the cups by placing a spoonful of the avocado salsa in the toasted cup. Place a shrimp on top. Serve with lime wedges.
Optional: top shrimp with a dollop of sour cream and a sprinkling of cilantro
Smoked Salmon Deviled Eggs
Makes 16
8 extra-large eggs
½ cup sour cream
2 oz. cream cheese at room temperature
2 tablespoons mayonnaise
1 tablespoon fresh lemon juice
2 tablespoons fresh chives, minced plus more for garnish
4 oz. smoked salmon, minced
1 teaspoon kosher salt
½ teaspoon freshly ground black pepper
Optional: salmon roe and/or small capers for garnish
Here is a foolproof way to hard boil eggs.  Using a pot with a steamer basket, bring about 2 inches of water to a boil. Place eggs in steamer basket, cover and steam over high heat for 10 minutes.  Remove from heat and set aside for 5 minutes. Meanwhile fill a bowl with ice water.  After 5 minutes place eggs in ice water bath. When cool enough to handle, peel.
Slice peeled eggs in half lengthwise.  Remove the yolks and place in the bowl of an electric mixer with the paddle attachment. Arrange the whites on a platter in a single layer cut side up and sprinkle with salt.
To the mixing bowl with the yolks add remaining ingredients (through pepper), and beat on medium speed until mixture is fluffy.  Using a small spoon, fill egg whites with mixture. Cover loosely with plastic wrap and chill for at least 30 minutes.
When ready to serve garnish with desired toppings and sprinkle with reserved chives.
HAPPY HOLIDAYS!!!!!